The Turkish election campaign is a fascinating case to monitor. There are a lot of important lessons one can learn from the dynamics of this race.
With four presidential candidates announced and many diverse coalitions competing in the race, everyone expects a heated campaign. The main political parties and alliances have adopted significantly different roles and communication styles.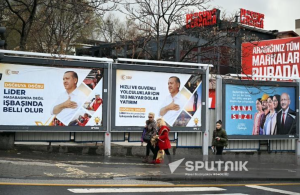 In this piece, I will focus on two main political actors: the main opposition National Alliance, which runs in two electoral lists with a complementary campaign strategy (the good cop and the bad cop) and President Recep Tayyip Erdoğan's People's Alliance (the self-declared prophet).
Perhaps the most symbolic difference between President Erdogan's People's Alliance and the main opposition National Alliance is in their name. An interesting research paper on national identities describes the term 'people' as having a more cultural-collective meaning and nations as 'groups whose primary source of self-identification is derived from their common democratic political aim'. Even though this might be a coincidence, it can offer a compelling perspective on what those two alliances represent and how they communicate. While the National Alliance is more focused on improving social welfare through systemic reforms, democracy and state-building, the People's Alliance is more engrossed in the election economy, putting citizens and their basic needs at the forefront of the campaign. Ironically, on most visuals and campaign posters, Erdoğan poses alone, while the candidates from the opposing National Alliance embrace various demographics of Turkish citizens and put them at the forefront.